Striders of Croydon faced strong opposition in the London Cross-Country Championships, at Parliament Hill Fields on Saturday. Their women's team placed 18th, while their men's team placed 23rd. Striders' women were again led by Jodie Gray, who ran very well to place 54th of the 309 finishers, completing the muddy six-kilometre course in 26 minutes 47 seconds. Jenny Rowe was 100th (28:07) with Jennifer Gutteridge 106th (28:28) and Selena Wong 177th (30:53). Striders' men were again led by Alastair Falconer, who had an excellent run to place 36th of the 494 finishers, completing the ten-kilometre course in 40 minutes 14. Krzysztof Klidzia was 127th (43:50) with Matt Stone 151st (44:46) and Luke Burden 251st (47:35). In the London Youth Games Cross-Country, at the same venue earlier in the day, Christopher Finch ran well to place 47th out of 238 finishers in the under-13 boys' race, completing the two-kilometre course in 8 minutes 25. His younger brother Daniel Finch was 135th (9:02), while their elder sister Lucy Finch was 169th in the under-15 girls' race.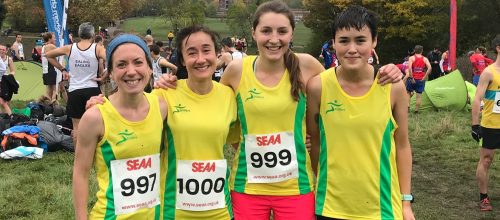 Also on Saturday, three of Striders' women completed the Wendover Woods 50-mile trail race, led by Ally Whitlock who was the 10th woman to finish, recording 12 hours 11 minutes 05 seconds. Rachel Lindley was the 15th woman to finish (12:53:21) while Debra Bourne placed second in the W50 category (12:57:25). James Rhodes placed first out of 122 finishers in the South Norwood parkrun (18:58), while Simon Ambrosi placed first out of 80 finishers in the Bethlem Royal Hospital parkrun (20:29). Striders had a total of 65 finishers in the various weekly parkruns.
In the Brighton 10-kilometre race on Sunday, Graeme Drysdale ran a personal best 37 minutes 12 seconds, finishing fourth in the over-50 category and 103rd overall out of 1498 finishers.