Running Endurance Practice Sessions (or REPS for short!)
Tuesdays at 18:30 & 19:30
The location changes on a week-by-week basis depending on the session. Members, please check the Monday email for details.
We've heard many times 'Oh, I can't do speed sessions, I'm too slow" or "I'm not fast enough to come to the speed sessions". This is not true, speed training is for EVERYONE. It's not about running fast, it's about improvement & running your best.
Do you want to run a 5km PB when parkrun returns?
Do you want to run your best marathon in the autumn?
Do you want to try & move up a group on a Wednesday night?
Do you simply want to push & challenge yourself, find out what you can do?
These sessions are open to any club member, whether you run with group one or group five. We split into small similar pace groups to do the workout & every session can be adapted to the pace of those running it. We've taken speed out of the name as we want these sessions to be accessible to all.
We are starting in April 2021 with a 12-week training block, you don't need to commit to every session, come along as & when you are able.
Here's a little peep at the first few weeks to tempt you:
Week 1: A 5km Benchmark run. 
Many of us haven't been running regularly during lockdown, we've struggled to fit it in around home working & homeschooling. This is not about running a 5km PB, this is about running your current 5km time. It will show you where you are right now & will give you a benchmark to work from over the next 12 weeks. It will help set a realistic goal for future runs & races.
Week 2: 6-10X 600m
Last week we found out where we were, this week we start working towards where we want to be with 6-10 X 600m at our goal 5km pace. Don't know what this is? We will be there to guide you.
Week 3: 4-6 X 1km
1km at target pace is easier to do than 5km. After a short recovery between km's, we'll go again. The aim is to start sensibly & finish strong.
Week 4: 5min, 4min, 3min, 2min, 4X(1min) with 60 seconds recovery
This is about controlling your effort & leaving enough in the tank for a harder effort in the shorter reps at the end.
Week 5: 3-6 X 1 mile
Similar to the 1km session in week 3, One mile is easier than three! We're starting sensibly & running at about 80% effort.
Week 6: 10X 2 minutes with 1-minute recovery
A sharper workout, close to top-end speed. Keep it controlled, increasing pace for the last few reps.
Week 7: 5km check-in
A chance to see where we are at half-way through the training block & review our goals.
There will be leaders there to guide, support & answer questions at every session. We will publish the planned session each week so if you are unable to join the organised run you can run the same session solo if you wish.
These sessions are led by Coaches Simon & Amanda & Run leaders Ally & Peter. Please email stridersofcroydon@gmail.com with any questions.
Track Sessions
The track sessions are open to all & each session is tailored with options for faster & steadier runners.
With Covid guidelines in place, the booking procedure is slightly more complicated than usual. On a Friday, club coach Alan will send an email around with a link to the booking form for the following week's sessions. You MUST complete this form for EVERY session you want to attend.
After completing the form, you pay Croydon Harriers via BACS (£4 per session), giving a booking reference showing your name and the session you are attending. Payment details are included on the form.
If you do not book & pay in advance you will not be permitted access to the track. Massive thanks to Croydon Harriers for facilitating the opening of the Croydon Arena athletics track.
To give you a flavour of what is to come here are the first few sessions;
Tuesday 30 March: 5X 800m (starting a rep every 5 minutes)
Options of 5X 1000m, jogging a 200m recovery or 4X 400m followed by 1X 800m for different pace groups.
Thursday 1 April: 5X 200m followed by 1X 500m (starting a rep every 4 minutes)
Option of 3X 200m, starting a rep every 8 minutes.
Tuesday 6 April: 3X 800m (starting a rep every 5 minutes); then 1X 1600m 
Options of 3X 1000m + 1X 2000m; jogging a 200m recovery or 3X 400m + 1X 1600m.
Thursday 8 April: 5X 300m (starting a rep every 3 minutes)
Option of 3X 300m, starting a rep every 6 minutes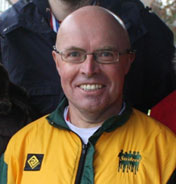 For more information about track sessions please contact Alan Dolton (UKA Level 3 Club Coach) on: alandolton@yahoo.co.uk : 020 8656 0532
For any additional questions on Striders' speed sessions or running technique you can contact our UKA Coach in Running Fitness (Level 2) on simon.ambrosi78@gmail.com or 07947 536973